THE ROTATION BIKE CONCEPT by Yirong Yang


The "Rotation" was designed for the International Bicycle Design Challenge and Yirong Yang's entry was definitely worth the research. This concept "rotation" bike is a city bike that rotates and folds as it was designed to do. Due to its collapsibility and unique folding design, you can ensure the bike is the shape you want it to be in when you choose to ride. Folding it along its axis will allow you to change it from unicycle to bicycle; depending on your adrenalin requirements for the day that is. We don't think I'd necessarily be 'unicycling' around the block anytime soon! What we admire the most about this concept design is the fact that you can simply fold this bike up and carry it around. Our compliments to Yiron.


LE PLIABLE by Saul MAret
This is "Le Pliable," a fold-up bike concept by Saul Maret. This one's based on the central headset position with an X silhouette. Foldable in the frame, saddle, pedals, swingarm, and handlebar. Depending on where you've gotta store it, you can fold one or all of the things I just listed. Do what's gotta be done! All spare parts are standard, too, so this bike can be repaired easily at any of your local bike shops. Then when you've got to lug it around after it's folded, no worries: the folded position affords a wheel still moving so that you can push it around like a golf caddy.

YIKEBIKE: the compact electric bike by YikeBike Limited
It's an incredibly exciting time for the company after the worldwide attention the launch attracted last year," says YikeBike founder and CEO Grant Ryan, "this is literally where the rubber hits the road as customers start to explore the urban freedom of a YikeBike." Grant says production specifications have been finalised, endurance testing completed and a European service agent appointed. YikeBikes can be bought online at £2,995 in the UK, and €3,495 for customers in France, Germany, Netherlands, Italy, Spain, Ireland, Denmark, Belgium, Sweden, Austria, Switzerland and Portugal. The price includes delivery, duty, tax and a 1 year warranty. "Servicing will be done by specially trained service agents. Customers are not required to take their YikeBike to a shop, it will be picked up by courier," says Grant.

The first European service agent will be Electric Bike World Ltd., based in Southampton.  "We are excited about being involved in a ground breaking project like the YikeBike," said Stuart Conway, CEO of Electric Bike World. "At Electric Bike World we consider product service to be a fundamental part of our business, and we are committed to giving the same exceptional level of service for YikeBike owners across Europe." Grant says YikeBike have been approached by over 1,100 organizations or people world-wide who want to be involved in distribution and sales of YikeBikes.

"Decisions on partners beyond direct internet sales will not be made until after the YikeBike has been in the market and we have ensured YikeBike owners have a fantastic customer experience by communicating directly with them."The production specification for the YikeBike: •Weight: 10kg (22 lbs)•Frame: Carbon fibre composite•Price: £2,995 UK and €3,495 Europe•Drive: Electric brushless DC motor•Brakes: Electric anti-skid, regenerative•Battery: Lithium Iron Phosphate – 40 min re-charge•Top speed: 25 km/hr•Power: 1 kW•Range: 10 km (6.2 miles)•Fold size: Compact 43 litres•Fold time: Under 20 seconds•User height: 163 cm – 193 cm•Weight limit: 100 kg•Wheels: 20" front and 8" back•Lights: Hi-visibility built in LEDs.

In 9 months since launching at EuroBike, the YikeBike has had extensive testing, including being ridden for 15,000 kms with 25,000 stop/starts simulating years of use.The result of five years of research and development, the YikeBike mini-farthing has a radically different riding position, steering and wheel configuration, giving a safe smooth ride while folding up to a super small size. The YikeBike mini-farthing is the smallest, and at 10kg, the lightest electric folding bike in the world, enabling people to take it on buses, trains, and cars and store it easily under a desk or in a cupboard. YikeBike develops and manufactures mini-farthings with exceptional performance, design and safety. The first design is the YikeBike, the lightest smallest electric folding bike in the world.

The vision at YikeBike is to create products that are fantastically functional and works of art. The mini-farthing technology is available for licensing to other manufacturers to pursue variations such as pedalled, pedal assisted, injection moulded frames, youth versions, integration into cars and boats, etc. YikeBike is backed by the two largest venture capital firms in New Zealand, Pioneer Capital Partners and K1W1, and the New Zealand Foundation for Research, Science and Technology. To find out more or to order a YikeBike visitthe links below.
www.yikebike.com
www.minifarthing.com
URBAN FOLDING BICYCLE by Hyuk-Jae Chang
Classifying the Ville as just another folding urban commuter cycle will not be fair. The design concept goes a step further by adding functionality to the folded form. It doubles up as a cart so that when you go grocery shopping, you don't leave this cool bike parked outside to tempt thieves, you take it along indoors. Ville – The Urban Folding Bicycle won the Bronze Prize at IDEA Design Awards
THE FOLDING BIKE BAG by Bergmoench
This Folding Bike Bag is 9.5kg, featuring a folding mechanism which keeps it small and handy that you can carrry comfortably on your back. You just get it down the shoulders and open it to a bike in 2 minutes! Instead of walking down hill the Bergmonch bike makes your descent into a thrilling experience even on rough trails.
iF MODE: the  full-size folding bike assembles in seconds by Mark Sanders
Folding bicycles are great for getting around town, but some are so small that it hardly seems worthwhile. This bike, called the iF Mode, cleverly folds down to about the size of a unicycle to take on the subway or into the office, but in use, has the dimensions of a full-size ride. Created by Mark Sanders, the iF Mode is similar to the designer's former A-frame oddity – the STRiDA MAS, in that the bicycle aims to keep you clean as you move about town – featuring innovations that avoid oily chains and hidden dirt traps. The bike is the first ever folding design to pick up the prestigious iF Product Design Award and is based on a patented 4-bar linkage system – that guides the two wheels side-by-side when folding .Impressive engineering ( at: $2,329 )

XS  A-bike


Invented by Sir Clive Sinclair, A-bike is the result of a five year research and development project by his team at Sinclair Research. Sir Clive said, "…the idea is if you had a bicycle which was seriously lighter and more compact than anything existing at the moment, it would change the way in which people saw bikes." So named, because of its 'A' like shape in use, this original styled A-bike feels very much like a normal bike to ride. However unlike other folding bikes it can be slipped easily into a bag while you hop on the tube, train, bus, or even a plane. The frame is made from nylon reinforced with glass fibre — similar to that used in the aerospace industry. Interestingly, although the wheels look very small, the pedal power required isn't all that much different from a regular bike, and because the chain system is fully enclosed, you don't have to worry about getting your catching your clothes on the mechanism. It is completely oil-free so it won't make you dirty either.
www.sinclair-research.co.uk
www.a-bike.co.uk
S  Strida

Mark Sanders ha progettato per Strida una bici veloce, leggera, compatta (110x51x23cm piegata), armoniosa e pulita. Il suo leggerissimo telaio in alluminio è garantito a vita e permette alla bici di pesare meno di 10 Kg. Strida si apre e si chiude in meno di cinque secondi. Quando è chiusa la si fa scorrere sulle ruote per trasportarla, non bisogna sollevarla. Utilizza una cinghia di trasmissione senza grassi che non macchierà mai i vostri pantaloni.

With a weight of under 25 pounds and the ability to fold and unfold it in just 5 seconds, bicycles don't get much better than the Strida Mas Special. The folding bike offers flexible and convenient, eco-friendly transport. The new Strida Mas folding bike is set to be officially unveiled at the upcoming Interbike Expo in Las Vegas. Inventor Mark Sanders stripped the bike down to its simplest form and added some slick new high-performance technology. The bike features a sophisticated Swiss-engineered drive system, which allows the rider to shift seamlessly between high and low gears with just a quick tap of the heel. The MAS Special also features an ergonomic racing saddle, a custom black anodized finish and alloy pedals, cranks and chain ring. Other new innovations in the Strida range include the XT, which has 18-inch wheels and a bigger frame to accommodate larger riders. They have also introduced new colors, including orange which is currently only available at the Museum of Modern Art in New York. The design of the Strida folding bike is just different. A Strida bike is unlike all other folding bikes and based on the strongest geometrical form in nature: the triangle.The frame is constructed exclusively from 7000 series powder-coated aluminum, it's rustproof, lightweight, rugged, and protected by a 2 year warranty. It's not just the frame that is strong as iron. The drive train belt is made of Kevlar. Kevlar is used for the production of e.g. helmets and bullet-proof vests. The durability of our greaseless drive train belt was tested in extreme circumstances and is rated up to 50,000 miles. New on the Strida 5.0 are the disc brakes. The brakes are safe, durable, and provide superior braking in wet weather. The disc brakes have a high-tech look and require almost no maintenance. In addition to a look of quality and design the ergonomic features haven't been neglected. On the contrary, the construction of the bike makes the biker sit up straight and an upright posture gives him/her a perfect overall picture of any situation. The distances between pedals, knees and hips have been adjusted exactly to create optimal comfort. Owing to this you always cycle with an upright posture and this gives you maximum control of your bike. The seat is equipped with built-in suspension for remarkable comfort. Upright posture provides greater visibility. seat adjusts up and down stem to accommodate riders 5'4″ to 6'4″ (1.62m to 1.93m), depending upon your leg length. The gel saddle is very comfortable; it is adjustable in height and can also be adjusted horizontally. The handlebars are collapsible, but can not be adjusted up and down. The standard 16″ aluminum wheels are rustproof and practically carefree. Strida is designed to need only a single speed. the gearing is 56 gear inches, roughly equivalent to 4th gear on a ten speed bike. Though Strida bikes are equipped with one single speed, you will never feel the need for more gearing. Acceleration is fast and your cruising speed is an average of 10-12 mph. The Strida 5.0 bike is a revolution in the world of design folding bikes. The frame and the patented folding technology make it one of the best selling folding bikes at present. Through the ingenuity of the folding system anyone can fold and unfold the pedals, the handlebars and the frame within 10 seconds.
www.strida.it
www.strida.com
M Puma-Biomega "UM"


The cooperation between the Danish bike designers Biomega and sporting goods giant Puma is taking more and more shape with the presentation of an all new commuter bike range. The Eurobike and Interbike shows were Puma's and Biomega's platform to launch the results of: "Smart European design and commuter technology with urban American style," as both companies called it. "Puma pared down its bikes to their essentials and constructed a new bike line with innovative and thoughtful details that meet the needs of a unique consumer set." The bike line includes 18 models and is designed for urban mobility and finds innovative solutions for the everyday city bike ride. Each bike features colours inspired by island culture in the Atlantic, symbolizing this new Trans-Atlantic approach and balancing Puma's European heritage with American popular culture.Very popular in the trendy bike segment is customization. Each Puma bike is accompanied by a ticker book of bike names creating the possibility to character and customize your bike. The Puma – Biomega cooperation is looking for distributors worldwide. Biomega is a premium urban bicycle brand. The company is committed to contribute to the world by creating lifestyle oriented CO2 friendly alternatives to cars and thereby reducing CO2 emission and helping create clean city centres. Next to Puma, the brand features collaborations with renowned designers such as Marc Newson, Ross Lovegrove and Karim Rashid. The company, which was founded in 1998, distributes its products in more than 20 countries, and has headquarters in Copenhagen, Denmark.
www.biomega.dk
www.um.puma.com
L  Cannondale"ON"


Cannondale took on the challenge of taking a cutting edge folding bike design and trying to make it a reality. The result has been dubbed the ON is in the ride able prototype stage and is a technological leap in bicycle technology. Cannondale's Quantum Leap project, headed by Director of Industrial Design, Torgny Fjeldskaar, is responsible for bringing concept-driven, visually impacting bikes to the Urban segment. The foldable "ON" model, with rear chaincase/hub and single fork front, is the latest in developments from the group–now in the rideable prototype phase and recently launched at Eurobike. The project has been in the works for a couple years, originally stemming from a futuristic bicycle project with students at Elisava Design School in Barcelona ( vedi core77) As an update to the posting on this site about the Cannondale ON concept folding bike introduced at Eurobike last year, according to the Cannondale, the company has committed to bring the bike to market in the near future.  The ON project had its genesis as a student (Philippe Holthuizen and Rodrigo Clavel) designed bike called the Jackknife.

www.coroflot.com/rodrigo_clavel
www.cannondale.com
XL  Cube



It is a collapsible bicycle by Cube called the Urban Street Concept Bike (USC). A student at the University Coburg/Germany, Gregor Dauth, designed the USC. Dauth based the idea of the USC off the Swiss Army Knife. There is a central hub located just behind the handlebars, which the bike collapses around, folding small enough to fit in the truck of a Smart car in just a few steps. The frame of the USC is made with carbon fiber, allowing the bike to be so lightweight (17kg). The USC was first debuted at the Eurobike Convention in 2007. Unlike other folding bikes, the USC is loaded with goodies! It has front and rear disc brakes, LED lights on the brake levers, which automatically switch on when it becomes dark, 28" wheels for added comfort over city terrain and an internally geared 8-speed hub. While the majority of the response on the USChas been positive, some people are not happy that in order to fold the bike completely up, you must take the wheels off. Others were unhappy with the bikes weight, 17kg and that there is no place to store daily office gear, water bottles, etc.
DK City

(folding electric bicycle by Robert Brady)

The world is crying out for some decent folding electric bike designs and predictably, given its two-wheeled heritage, Robrady Design has delivered one of the best we've seen so far. Secondary transport solutions that are light and electric and can fold into small spaces are naturally an important part of the transportation equation of the future – Robrady designed the db0 for Taiwanese company DK City and it'll be on the market within two months.While ROBRADY is well known for its design prowess in the electric scooter and super bike world (notably its electric superbike and its association with the now defunct Vectrix electric scooter company), this is the company's first foray into the electric bicycle market.
ROBRADY CEO and Design Director Robert Brady said his team "took a white page look" at the opportunity and set out to design a series of three bikes that would be instantly recognized as the next generation in folding bikes."The three new db0 bikes embody our mission to design a series of clean, bold, and innovatively simple folding bikes. Our design work promotes the folding mechanism as an integrated piece of the design- a 'focal point' that adds visual value to the bike design unlike it has ever been done before. We don't hide the fact that these bikes fold- we have made it a distinguished characteristic of the series. "Several features of the bike are currently being patented. DK City, which will be the exclusive manufacturers of the bicycle series, is also taking a fresh approach to the build, incorporating unique manufacturing processes that it claims will deliver a bicycle of superior craftsmanship. The partnership is planning several future projects beyond this series of bicycles. Sadly, that's all we have at this stage – no pricing, no specifications, no top speeds or range. To have more information just visit:
CAPELLA by Minh Nhat
At Ho Chi Minh City University of Architecture student Minh Nhat, has devised this green bike, Capella. This folding vehicle definitely cuts on space, provides hassle free transport and helps in keeping the environment clean. This electric bike has a top speed of 30 kmph. As a matter of fact, this bike needs 2 hours' charging to keep it going for 12 kilometers. You certainly can't ask for more when you already have a bike that has wheels, chains and chain-ring folded to its body. So, in case it runs out of charge, it's back-mountable. Hence, I don't find any problem in terming this compact bike "the future of transportation." Though it's a handy bike and is eco-friendly, still a low top speed of 30km/h and that too only for a distance of 12 kilometer on a single charge are major drawbacks. With such features, there is very less possibility that anyone will find it adorable.
BiCX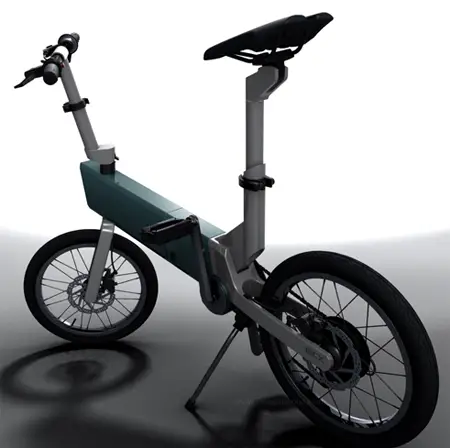 Is a folding e-bike concept that provides a new approach of commuting by self-recharging its lithium-ion-polymer battery. The battery can't be recharged by regular electric outlets, rather it has been designed to recharge through human power such as down-hill free-riding or pedaling. The bike features two riding modes, the Cruise Mode and the Recharge Mode, along with a Booster Button. When the rider is pedaling the bike in Cruise mode, the e-motor will start assisting the rider for pedaling to ensure convenient riding. Recharge mode is the usual riding option where the battery gets charged through pedaling. The Booster button on the left thumb gives a quick acceleration to the bike and functions only if the battery has at least 15% charge.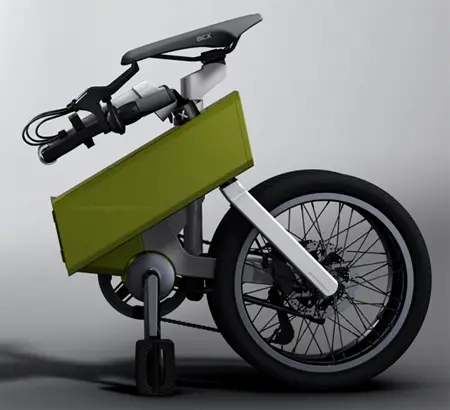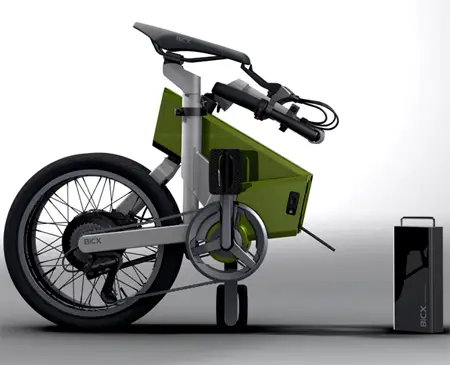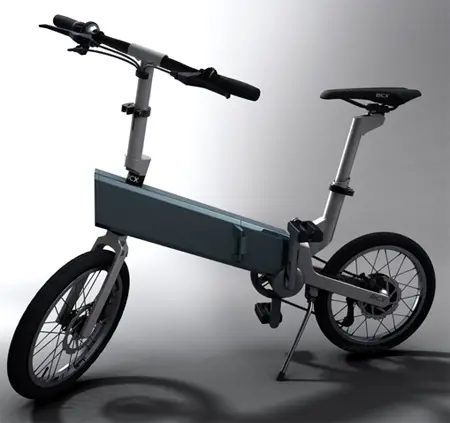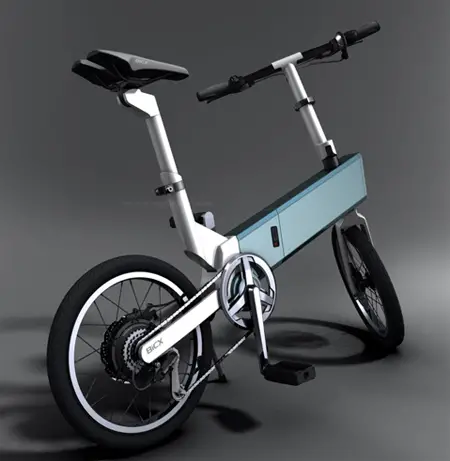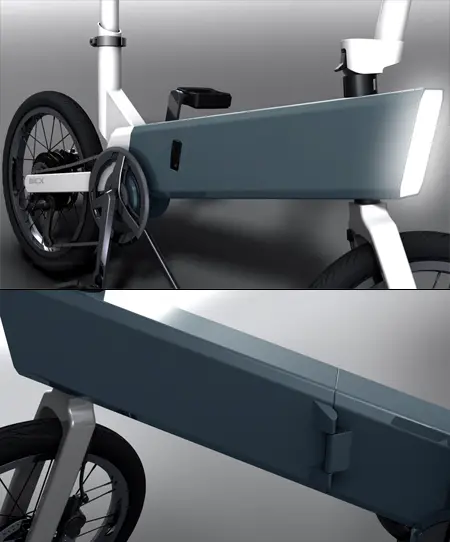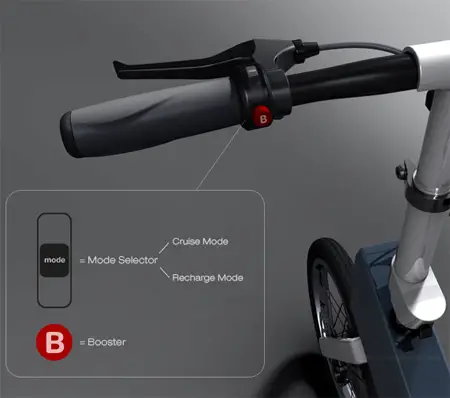 CMYK
The CMYK folding electric bicycle offers comprehensive solution for short commutes aiming to complement public transportation by reducing the amount of vehicles on the streets. This compact bicycle has the ability to fold via few easy steps and can be put into a carry bag, ensuing maximum functionality and comfort for them who wants to carry it on the bus and take it to their office. The bike can be plugged in any 110V electric outlet and runs for 50 minutes after a two-hour charge. To make it even more alluring, a set of accessories are available to meet individual's need.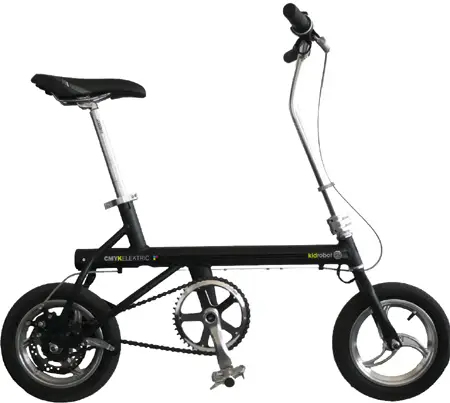 CONCEPT by Victor M. Aleman
The compactable bicycle concept was driven from the need of boosting urban space efficiency when it is not in use or being transported. The wheel is made of six modules, each with double pivot in their joints, allowing the wheel to be folded and become smaller. The spokes of the wheel are contained in the internal structure when you fold the bicycle and the spokes rotate to the system's center where they attach with the center wheel. This bicycle is designed in a double triangle structure made of expandable modules with foldable ability. To keep the structure in position, the system has utilized a special X shaped component that aligns the modules to the exact position. The Wheel is composed by six modules, each one has a double pivot in the joints, this allows the wheel to fold and become smaller, the spokes are contained in the inner structure of the wheel, when you unfold the system, the spokes rotate to the center of the mechanism where it attach to the center of the wheel. The double triangle structure is composed by expandable modules, each one collapses to a smaller dimension and then this modules align by the rotation of the axis in the joint of the structure, to keep in position all the structure is used an special part in a form of an X that aligns all the modules to their position.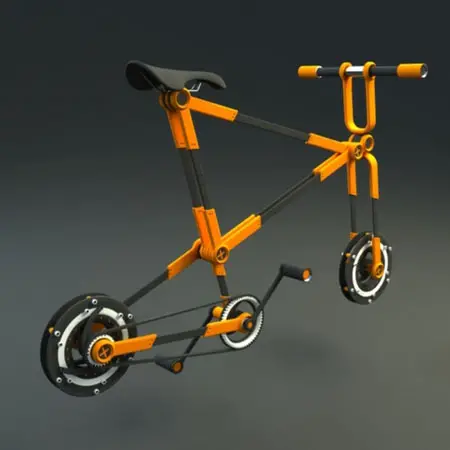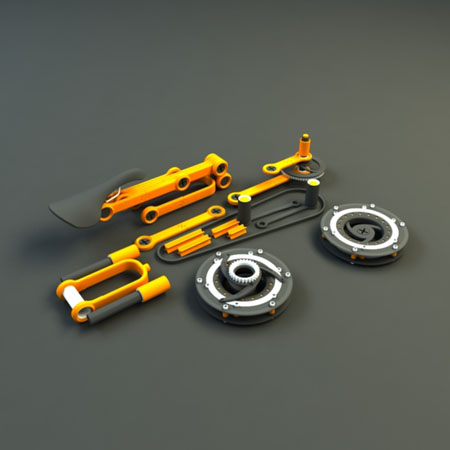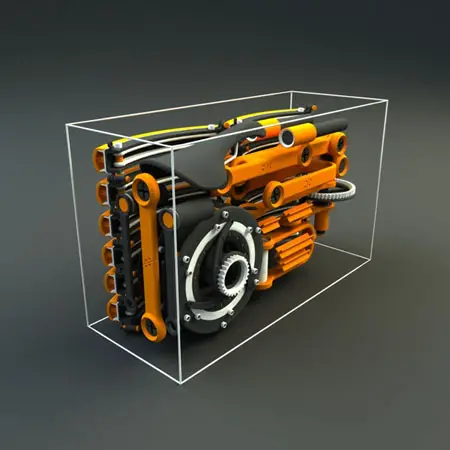 Pedal Power Electric Bike Concept
A new concept bike design called the Grasshopper can not only get you to work in the morning it can double as an exercise bike when you get home. The bike generates it's own energy from pedal power. You can choose to pedal down the hills and ride up the hills using electric power. It's foldable frame also makes it a perfect compact solution for city commuting and apartment living.


CYOOO: The electric folding bike by Andy Klung

The CYOOO is pedelec bike, a neologism for electrically assisted pedaling. Helps with difficult rides when you need that extra boost or when you're just too lazy to bother but the other interesting tidbit is the unique folding mechanism. The saddle folds down, the head tube collapses inwards, and the handle bars rotate 90 degrees. Make no mistake this is a full 20″ bike so the folding feature makes it a bit more manageable. The geometry of the frame is based upon the classic diamond frame. To integrate the pedelec components (electric motor, rechargeable battery, control electronics etc.) the frame of the bike is made up of two parts, the outer skin and the inner construction. The outer skin is laser cut out of aluminum and molded into shape. The inner construction consists of hard plastic. Ribbing inside gives stability and a balanced weight ratio. The outer skin, the inner construction and the axis holders are bonded.

BIKE PACK : portable commuter
We have not even got over discussing the future of collapsible wheels, and are face to face with this full functional commuter that even betters the collapsible wheel. Dubbed the Bike Pack, this unique bike can be rolled up into a back pack, making it an ideal choice for youngsters who like portability. The concept is a part of the design thesis for the designer, and to say that it would make it to the factory in the near future isn't wrong for the sheer flexibility it brings to the bicycle. Bicycles are a popular medium of commuting across the globe. Keeping in mind its importance, designers need to think on the lines of a bike that makes cycling a pleasure. Such themed products could indeed change the way the world thinks and we do need a green contribution from everyone. Andy Tioh, the designer of this bike pack is the man for the future. Sadly, this talented designer is yet to find a taker for his project but looking at his talent, we hope that he soon gets his due!

ZOOMLA BIKE:  folds into a backpack
With urban roads crying for space, portable vehicles have become an essential, rather integral, mode of transportation for brisk as well as safe traveling, making cities a better place to live in. Addressing the issue, designer Eric Stoddard has designed a quick and portable bike called the Zoomla that presenting a compact and sleek design promises a better alternative for around-town commuting. Featuring a unique L-frame design finished with TorqSteer, the Zoomla briskly (in just two seconds) folds to fit in a school locker. Pretty amazing! Swapping a conventional steering tube and greasy chains with an integrated handle and Zoomla's Pedaldeck respectively, the portable bike (when trimmed) weighs just 5kg, so that you may simply carry it as a backpack, attached below the seat. The Zoomla not just makes your way through cramped city roads, but also gives a style statement to modern commuters.
Bik.e by Wolksvagen

The concept of "last few mile mobility" is one which we'll all grow accustomed to over the next decade as the world's cities become more congested and non-polluting micro mobility concepts begin to supplement other forms of transport. In the last year alone we've seen Toyota's Winglet, Honda's U3-X, Nissan's electric skis, and now Volkswagen has shown a micro mobility concept which it has dubbed the "Bik.e" – a folding electric bike with one of the most ingenious folding mechanisms we've seen. With a range of 20 kilometres (12.5 miles), the Bik.e has 20 inch wheels and folds to a footprint identical to that of a car spare tyre, enabling it to be stowed away easily. The Bik.e will definitely see production, and possibly even before the end of the year. VW's choice of form factor is as fascinating as its choice of a recognizable name is inspired. The Bik.e could turn out to be as important to VW as the iPod has been to Apple. VW's choice of form factor is fascinating and it's an enormous shame that more detail has not been revealed.

The bik.e reportedly weighs in at under 20 kilograms – porky for a bicycle but relatively light for an electric bike. Honda's U3-X and Toyota's Winglet weigh in at half the Bik.e's weight but the folding mechanism enables the bike to sit above the spare tyre in the wheel well without taking up any of the luggage space of most vehicles according to Volkswagen. Attempting to match Honda's U3-X weight and functionality would probably be beyond a stadium full of Phds but in creating a micro mobility concept designed to be an adjunct to a larger vehicle, VW recognizes that 20 kg is relatively inconsequential. No details have been given on its charging time, though it has been revealed that it can charge from the battery of the "mothership" – the car it will reside within. So if there's a PowerPoint available at the destination, the bik.e can travel its full range of 20 kilometers. If not, then it can still offer a distance of 10km there and 10km back to the parent vehicle where it can be charged in transit. The Bik.e has a top speed of 20 kmh (12.5mph), and reports from Beijing suggest that while it could easily be faster, its top speed has been pegged at 20 kmh because it enable the machine to be ridden in Germany without a helmet. Several global trends are driving the need for personal micro mobility solutions – the world's population is ageing rapidly, the world is drowning in excrement and the world's roads will become hopelessly congested within a few decades. Not much else is known at this stage about the Bik.e though it clearly uses batteries stored within the frame, cable-operated disc brakes on each wheel, injection molded aluminum or magnesium construction reminiscent of the Gocycle) and integrated LED lighting. Even the split centre stand is a stroke of design genius, offering far better stability than the traditional prop-stand of a bicycle yet folding almost flush with the frame when in use. Volkswagen's sustainable design expertise is beginning to look mighty impressive and could have yielded an iconic design for the ages – perhaps even as representative of Volkswagen's brand values as that previous icon, the Beetle. This is a landmark design, and one which, like Apple's iPod, could become an accessory on vehicles other than those wearing a VW badge.
www.wolksvagen.com
Bike 2.0 by Nils Sveje, Inoda Sveje design studio & IPU Produktudvikling

Main Features: comfortable ride with energy leveling and the stepless gearbox, option of adding seat-tube battery for speed, two wireless control-units (that work with two wireless rings on the handlebar) help control your ride.
Beik by Lukas Jungmann
Main Features: Audi branding, folding mechanism, articulated frame steering and the untypical frame setup.
Tribune by Thüring Lukas, Lukas Thüring & Florian Vecsey
Main Features: electric operated tricycle-recumbent bike, powered by a generator and an electric motor, external battery increases drive capacity, lockable little boot to store items above the rear wheel, adjustable headrest and pedals, flexible backrest, front and back lights for safety, ergonomic design.
Ridenpush by You Ho Jeon
Main Features: a riding cycle with a wagon can transform into a push cart when heavy, intended for the elderly.
Ufold by André Costa
Main Features: a cross between a mountain bike size and a city bike, easy to use folding system, handle in the frame makes it easy to push, when closed, central joint in the two piece frame, safety trigger and an angle two piece frame help in aligning the wheel when opened.
Full Circle by Sanghyun jeong & Jun-Tae Park

Main Features: compact sized city bike, large wheel size (508mm, 20inch), no chains but free wheel gear directly connects to its pedal, most of its parts can be folded, including saddle and handle bars.
Molecule by Yongjin Lee
Main Features: body is modeled on the river Han of Seoul, unique shape.
Helo by Junkyo Lee
Main Features: unique body, integrated lock design to prevent theft.
ROOnighT by Yong-Bum Lim & Park Jong-Soon
Main Features: harnesses energy from the cycling to power its lights at night, the polycarbonate frame emits light through O.L.E.D, transforming the bicycle into a night light for the street it's parked in, intended for a public sharing system for bikers.
X Bike by Woogyeong Go, Dong-ha Kim & Kyeongpyo Cho
Main Features: looks like the letter "X", no chain technology.
Carrier Bike by Shin Hyung Sub Shin
Main Features: a convenient carrier, shelf located in the middle of the bicycle, designed to help carry the users luggage.
SE:CUrity Lock System by Sang Yong Park & Jae Yong Park

Main Features: the steering features a number lock system, locks by pushing the handles down, locks into the front wheel of the cycle, unique body design.
T-bike by Jung Geun Tak & Shinhyun Kang of T.A.K studio
Main Features: iconic design, folding handlebars double up as a lock, embedded GPS, E-INK and EPD technology used in the embedded monitor, adjustable seat via a lever with the seat height index (indicator), seat height can be adjusted while being seated.
Sideways Bike by Michael Killian
Trileaf by Jihyeong Kim
Viento – Urban Folding Bicycles by Gil Sheffi